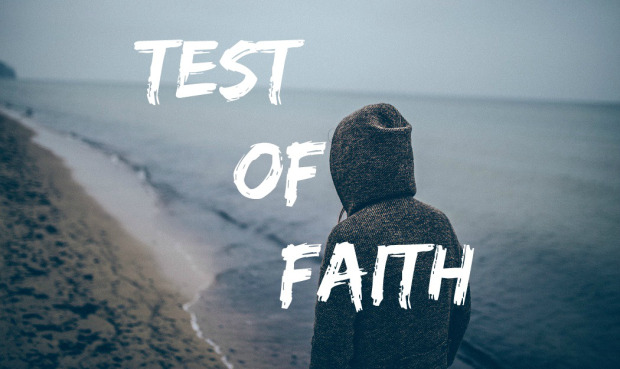 TEST OF FAITH
Does God sometimes test our faith by letting hard times happen to us? If so, why does He do it? Doesn't He already know whether or not our faith is genuine?
Sometimes God does test our faith, just as He tested the faith of the ancient Israelites by allowing them to go through hard times in the wilderness, "in order to know what was in your heart" (Deuteronomy 8:2).
Remember: If our faith is weak, it may not be obvious when life is going smoothly and we aren't challenged in any way. But when hard times come, a weak faith will be revealed for what it really is: shallow and unable to help us through life's difficulties. It may be anything: an unexpected illness, the death of a loved one, the loss of our job, or even a friend who turns against us. But when hard times happen, the true nature of our faith will be revealed.
But God doesn't test us because He doesn't know how strong we are.
Instead, He tests us because we don't know how strong we are — and we'll only realize it when times of testing come. The psalmist prayed, "Search me, O God, and know my heart; test me and know my anxious thoughts" (Psalm 139:23).
None of us likes to go through hard times (and God isn't necessarily behind them, even if He does allow them). But God can use them to show us our weaknesses. And when that happens, we need to ask God to help our faith grow. Testing should make us spiritually stronger — and it will as we turn it over to God. The Bible says, "Consider it pure joy, my brothers, whenever you face trials … so that you may be mature and complete" (James 1:2, 4).
7 THINGS TO DO WHEN YOUR FAITH IS TESTED
In a matter of days my comfortable world was shaken. My husband was involved in a car accident; I received a diagnosis of something I can't pronounce after spending more than six hours in the emergency room; a water pipe under our driveway burst to the tune of thousands of dollars and my future daughter-in-law miscarried a baby she desperately wanted.
STOP!
Don't panic! Just hold on and wait a minute. Stop trying to think about it and don't try and fix it all immediately. There is an old adage that says, "Stop, Drop and Pray." The first word is stop. Breathe. Sit down, get some fresh air. Assess the situation and look at all options. Don't attempt to make big decisions and solve everything right away.
After stopping begin PRAYING
Prayer is the portal to God. Sometimes we need heaven to rain down on our earthly situation. The Bible teaches us that we are to "pray without ceasing." I'm not sure if this means to pray 24-7. But God and Who HE is should be on our minds. Seek HIM with all of your hear. HE will respond. It may not be in the time that we want—but HE knows our needs. HE knows our hearts and HE knows the outcomes that are necessary for our growth and development.
FAST
When we need to hear from God quickly and we desire answers directly and expeditiously—we must FAST and pray. God honors the sacrifice and obedience of fasting. When we fast our spirit relinquishes the things of the world and becomes extremely sensitive to God's perspective. Fasting is the secret sauce that releases God's power. We put God on notice that our desire for HIM is greater than our desire for anything else.
PRAISE
Sometimes in the midst of trials and tests we must say, "Hallelujah anyhow." Job said it best, "Yet though they slay me, I will still praise HIM." In my favorite book, God Calling, it says, "Praise is the devil's death knoll." He can't stand up to the praise of a believer. Praise HIM for WHO HE IS! If he never did another thing for us, he is still God. He still sits high.
Surround yourself with PRAYER WARRIORS
During a time of testing we need to be around folks who are taking us to the throne and who know what you know and believe about God. This is not the time to get on the phone and discuss our issues with girlfriends or unbelievers. This is not the time for Dr. Phil or Oprah or reality talk shows. This is the time for real talk; real prayers and to be around people who know the value of crying out to a sovereign God. This is the time for acknowledging Jehovah Rapha—the God of healing and restoration and communicating with others who understand that kind of power.
GRATITUDE
I've learned that showing gratitude in the midst of tribulations changes the atmosphere. A grateful heart, an acknowledgement that life can be a whole lot worse allows us to release control and pride. Gratitude may not change the situation but it takes our aim off of our current situation and alters how we show up.
TAKE CARE OF YOU
As a crisis communication trainer, and one who has managed crisis situations for law enforcement agencies, one of the most important messages I relate is the necessity to take care of YOU. Flight attendants also tell us to 'place the gas mask on ourselves first.' The same principle applies. If you are depleted, tired, worn out and stressed out it becomes difficult to perform and make sound decisions. Try and get some rest. Drink plenty of water. Take long walks and get quiet at every opportunity.
In the 23rd Psalm David teaches us in verse 4, "Even though I walk THROUGH the valley of the shadow of death…" The operative word is through. There is another side. And in Psalm 30—we are reminded, "weeping may remain for a night, but rejoicing comes in the morning."
Further readings:
ABRAHAM'S FAITH TESTED
Some time later, God tested Abraham's faith. "Abraham!" God called.
"Yes," he replied. "Here I am."
ELIJAH AND THE WIDOW AT ZAREPHATH
1 Kings 17:7-16 New International Version (NIV)
13 Elijah said to her, "Don't be afraid. Go home and do as you have said.
Hebrews 11:1 King James Version (KJV)
11 Now FAITH is the substance of things hoped for, the evidence of things not seen.
1 Corinthians 10:13 New International Version (NIV)
No temptation has overtaken you except what is common to mankind. And God is faithful; he will not let you be tempted beyond what you can bear. But when you are tempted, he will also provide a way out so that you can endure it.